Food to go packaging made from PP
PP is suitable for almost any kind of food application and very easy to handle in production
Key characteristics for PP

Protective and safe food packaging
Safety in food packaging is extremely important, and quality packaging is key to keeping your food to go product fresh, appealing and safe. Our food to go packaging made from PP protects the integrity of your food product at temperatures ranging from -20°C to 121°C, providing freezer-to-microwave convenience. PP keeps your food to go safe from physical damage and spoilage, and it guarantees that the flavour of your product is not affected. This helps to prolong the shelf life of your product, making your packaging part of the solution to reduce food waste.
Faerch food to go products made from PP comply with the strictest regulations on food safety. They meet the highest standards according to Regulation (EU) No 10/2011. No such specific regulation exists for non-plastic materials, only the softer Regulation (EC) No 1935/2004 is typically applied with certain practical limitations on how to prove food safety.

Recyclable
In contrast to APET, which allows for true circularity, PP is made from 100% virgin material. However, PP trays are fully recyclable in contrast to packaging not made from a mono-material. PP, which is recycled from food applications, represents an important source of material for supplying other durable applications, such as in the automotive industry, and for applications such as child safety seats, bike helmets, garden furniture, and pipes. In the PP recycling chain, food applications represent the first step necessarily requiring 100% virgin material. PP is typically promoted by waste managers and legislators due to its excellent recycling capability and volume.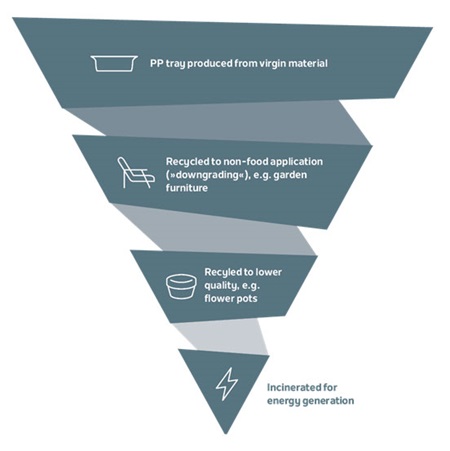 Versatile in design
Get noticed on the shelf with eye-catching packaging design. Our PP trays for the food to go market are available in numerous standard sizes, colours, and shapes, as well as countless custom options to perfectly match the visual identity of your brand and business. Choose between a wide range of colours, textures, embossing effects, prints, and sleeves – with or without lids.

Customer convenience
Meet your customers needs and expectations with ready meal packaging made from PP. Our PP food trays are designed to make your customers' lives a little easier.
Here is a short run-down of the 6 key advantages of PP food packaging when it comes to convenience.
Excellent product presentation
Consumers judge the quality of your product in seconds, and they prefer honest and transparent product presentation. The clarity offered by PP sets your product apart on the shelf and helps your customer evaluate the quality and integrity of your food to go product prior to purchase.

Temperatures ranging from -20°C to 121°C
With a wide temperature range from -20°C to 121°C, our PP trays can be heated for freezer-to-microwave convenience.

Excellent cooking and tableware appeal
Consumers are demanding convenience packs designed to be put straight onto the table. Our PP trays provide freezer-to-microwave convenience with tableware appeal.

Compartments to preserve food quality
Use compartments to easily separate the ingredients of your ready meal product. This prevents tastes and aromas from mixing.

Reduce food waste
With an innovative perforated tray design, our range of PP products for the food to go market includes many single-serve options that help keep food fresh, reduce food waste, and make portion control easier.

Secure handling
Our PP products have no sharp edges, which ensures that they can be handled safely.

Perform well at point of sale
Use smart packaging design to boost sales of your ready meal product. Our PP trays are designed for eye-catching shelf appeal, differentiation and impact.
They offer great design flexibility, enabling you to effectively brand your ready meal product at the point of sale.
Innovative and eye-catching designs, shapes, and styles
Transparent and multiple opaque colours
Attractive textures and embossing

Easy to handle in production
Easy handling is essential for running stable and effective production. Thanks to their excellent uniformity and conformity, our PP products for the food to go segment optimise your production flow and total cost of ownership.
PP offers superior sealing and allows for top-sealing, BDF, flow packs, and food packaged by retailers on-site. At the same time, PP offers you high production flexibility as you can apply many design variants and depths within the same sealing and tooling profile.

Get in touch
with Faerch
Want to know more about how our Food to Go packaging
solutions made from PP can help grow your business?
- please feel free to send us a message here